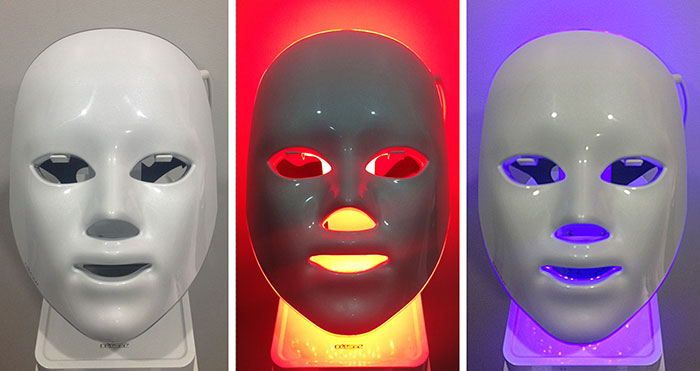 A DEESSE LED Mask can be used for skin rejuvenation and pain relief. It increases blood flow, promotes wound healing, and stimulates collagen and elastin production. It can also be used to treat mild to moderate acne and for post-treatment pain relief.
The LED mask by DEESSE emits 3 types of LED beam which are 415nm / 630nm / 830nm.
It is superior for post-care after needle and laser treatment.
The 3 types of LED beam have different, separate functions.
Gentle, painless, non-invasive and extremely effective –
100% natural and non-invasive
No known side effects
Safe for all ages and daily use
Cost-effective
The effectiveness of LED masks –
415nm (6mW/cm2) Acne, Antimicrobial Effect
630nm (12mW/cm2) Post-care after Laser Treatment, Skin Rejuvenation, Brightening
830nm (30mW/cm2) Wound Healing, Skin Rejuvenation, Blood Circulation
Light-weight and portable
Possible to irradiate closely to the skin compared to the High-power LED, therefore no concern about burning
Applications of LED masks –
Post-care after needle and laser treatment
Acne and wrinkle care, pigment removal
Reducing down time
Bright and glossy skin
What Symptoms / Conditions can be treated with DEESSE LED masks –
Acne treatment – It can be used for various degrees of acne using antimicrobial beams.
Photorejuvenation – General skin rejuvenation such as skin whitening.
Pre-Post care of fractional laser for scar regeneration – Before and after having laser work, use LED treatment for a week and skin is ablated. It reduces recovery time and minimizes side effects such as PIH and redness.
Relax and regenerate skin after IPL – Same principle as fractional laser – skin redness is dramatically reduced. When having side effects such as blistering, LED reduces PIH and minimizes side effects.
Diminishing of edema and swelling – Diminishes edema, swelling and bruises after surgery and other more invasive treatments.
Stimulating blood circulation – After Botox and Filler, LED stimulates blood circulation and diminishs swelling.
Plastic surgeries
Burn treatment after IPL or other laser work
Skin regeneration after chemical peeling
Ensures ease of difficult treatments
How long until I see results?
Skin texture and tone improve from the first treatment of DEESSE LED mask. Pigmentation fades over the course of 15 or more treatments, 15 – 20 minutes, 3 times a week. Skin begins to plump and feel more moist within three weeks. For collagen production and anti-aging, you will see results in 6 – 10 weeks, depending on the condition of your skin to begin with. However, some individuals experience results in a quicker time. Rosacea skin will calm down after about 6 to 8 treatments.
Pain and wounds heal faster and better with each treatment (use twice a day every day for pain management). Usually, pain and inflammation cease after just one to three days of use.
How many treatments should I do each week?
For rejuvenation and repair, we use the unit only 9-17 minutes per day. Once the desired effect is achieved, we suggest two to three times weekly for maintenance. For pain management or reducing inflammation, we use the unit 17 minutes x 2 per day, per area.
Is LED Red Light Therapy safe to use around my eyes?
LEDs are very bright and therefore it is not advisable to look into the direct light. Keep the eyes CLOSED during use on the face. The light will not cause damage to the eye.
Is there any area I should not use the Light Therapy on?
If you have thyroid challenges, simply cover the thyroid area with a piece of gauze or folded tissue when treating the neck. The thyroid is located under the "u" notch in the centre of the collarbone. The thyroid is deep enough below the skin surface that it is not affected by light, but a cover is always advised, particularly if you have thyroid concerns.
Does Light Therapy help fade age spots?
Yes, over time, Red LED Therapy can help fade age spots! For even faster results, exfoliate your skin twice weekly. See the suggestions above. If you have rosacea, don't use scrubs. Instead, use a glycolic cleanser or salicylic acid-based cleanser to gently exfoliate the skin. Be sure to apply daily sunscreen to help prevent further age spots and wrinkles.
Currently only available in the Auckland clinic. Contact us to book an appointment.